Unity
Trading made easy
Unity is your easier way to trade. The dedicated online area that gives you access to tools, risk guides, the latest information from Rural, direct access to our entire underwriting team and much more.
When it comes to turnarounds for your new business or policy change requests,
using Unity puts you at the front of the queue.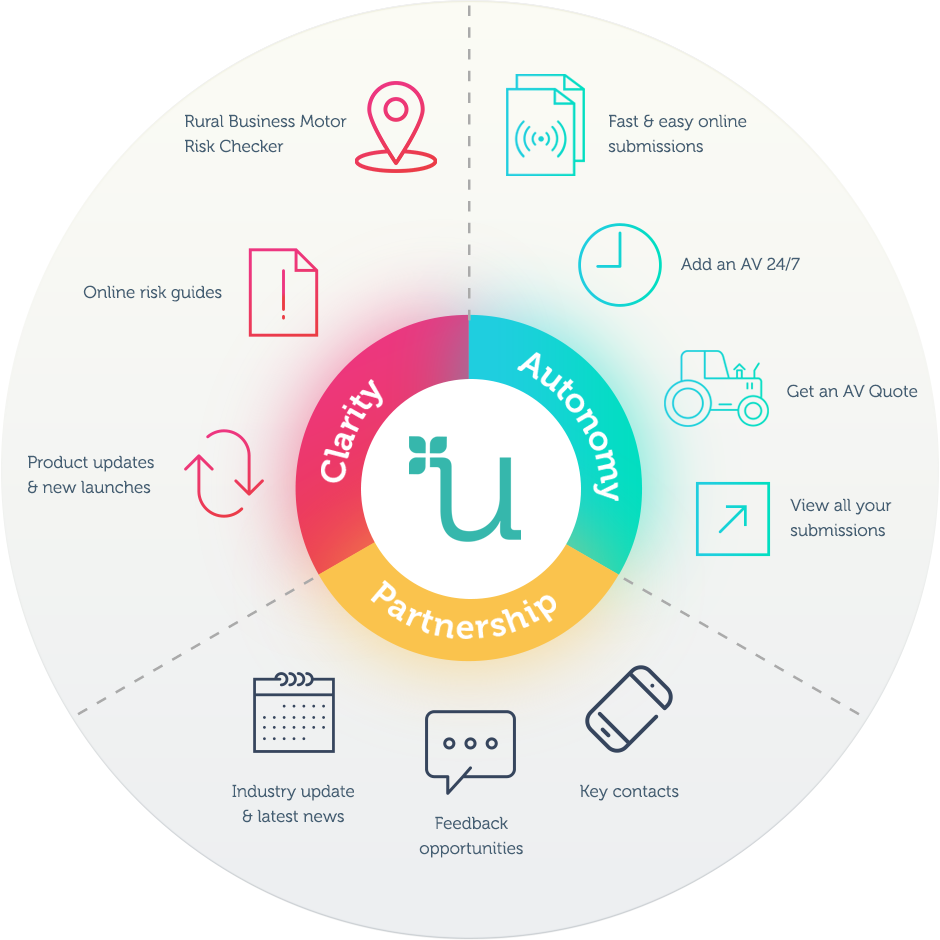 Not only is Unity fast for you to use, it will also get you ahead when it comes to service.
Make sure you don't get left behind and instead get onto Unity now for:
24/7, unlimited access
Tools for checking your risks
An easy and fast way to make policy changes and new business submissions
Be the first to know about our product improvements and new launches
Direct access to our underwriting team
The latest news from Rural
So don't get left behind…
Built around you
Built around your needs, Unity is designed to make trading as easy as possible. We want to remove unnecessary time and administration costs from your business, giving you a speedier level of service.
More than 1,500 brokers already benefit from Unity and with new features added every month, we're leading the way in delivering online content and services to improve your trading experience.
We regularly listen to your feedback and build our online services around what matters most to you. So if there's something you'd like to see on Unity, or ways we can improve our digital services, let us know!
Accessing Unity is easy
Registering for Unity is easy. Simply fill out the short form and click submit. A member of the team will set your account up and send you an email with a link to your new Unity account.
When logging in for the first time there's an option to remember your password. Click 'yes' to make forgotten passwords a thing of the past.
Not sure if you're registered? Just choose the 'forgotten password' option and follow the instructions.
What's next?
Our ultimate goal is to deliver a full range of services across quote-and-buy, claims, and financial self-service. We want you to be able to see our risk appetite at a glance and chat with us directly online.
We'll keep growing and developing the services on offer through Unity in coming weeks and months.
Using Rural's online submission forms is easy and the turnaround time is great. I submitted a new business quote online and was delighted to get a call from an underwriter the same day. They confirmed my submission had been received and that they needed to ask a few detailed questions about the risk in order to start working it. I received the quote within 3 working days which meant I was able to respond to my client quickly.
When working with Rural, Unity is my go to destination. It's very user-friendly and whether I need to make a submission, check their risk appetite or to find an underwriter's contact number, I know I will find everything I need in one place.
In Unity you can find…

Rural Business Motor Risk Checker
Check a risk by trade and location to see if your client is eligible for cover…

Get your new business quotes and policy changes straight in front of our underwriters for fast turnarounds…

Add an agricultural vehicle 24/7 and get immediate cover

Get an instant quote for single or multiple agri-vehicle risks

View all your online submissions, quick quotes and AV additions in one easy place.

Understand our risk appetite in seconds

Access the latest policy documents, proposal and claims forms in one place

Find up to date contact details for everyone at Rural, from underwriters to senior management

Discover the latest product developments and keep up to date with what's going on in the industry

Take part in surveys, polls and provide feedback to help shape what we do.